Remembering Paul Youngberg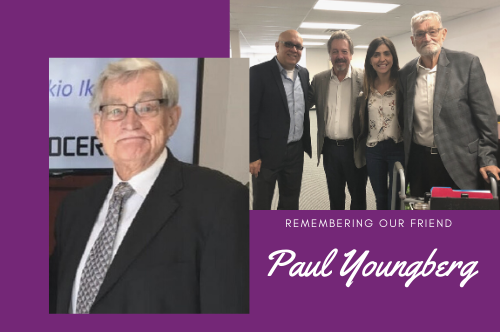 Paul Youngberg, a member of The Patriot Pack, passed away suddenly earlier this month. The Patriot Pack is a group that raises awareness and funding for The Jillian Fund as part of the annual Rolling Thunder Demonstration Ride. In lieu of flowers, the family requests donations in Paul's memory be made to The Greater Cleveland Food Bank or The Jillian Fund. If you would like to donate in his memory to The Jillian Fund, you may do so here. 
You can read more about Paul from Andy Slawetsky at Industry Analysts, in Paul's obituary, as well as from Patriot Pack member Mike Stramaglio below:
I had come to know Paul "Berg" Youngberg over the past few years, and it was easy to see how he earned his legendary status in our industry as one of the most respected, loved and tenacious people you could ever want to meet. Paul always conducted himself with great humor a quick mind and providing the greatest of courtesy to all he worked with and met along the road of life. He sure enjoyed his life, always talking about his RV journeys with his wife and talking about and of course playing golf where ever he could! I loved hearing every story he shared! 
Berg was honored to be a part of the Patriot Pack and on our last Ride across America to DC he shared the RV driving responsibilities with Raj Thadani and Bob Goldberg. He had never done anything like that before, and he was impressed, inspired and enamored by the brotherhood and sisterhood between the riders, the skill and effort it takes to make it happen and the beauty of the riders all acting in harmony on the open road! He loved every minute of it, and of course The Pack loved him!
During one of the "stops" along the way he asked me about "how and why The Jillian Fund" and how it all came to be. I shared the circumstances with him, and he asked many questions. I always carry Jillian's favorite pink scarf George Gorman had given me years ago for good luck, so I took it out of my saddle bag and showed it to him, and I said "the ride is the ride and you are seeing enjoying the fun part of it,  but this is why we do it and we never forget it!"  He looked at me with emotion in his eyes, gave me a big hug and said "amazing and you be careful out there people need guys to do what you do." He turned and walked back the RV and of all the fantastic memories I have of Berg that one will last with me forever!  Miss you Berg!