June 2020 Update from Bill McLaughlin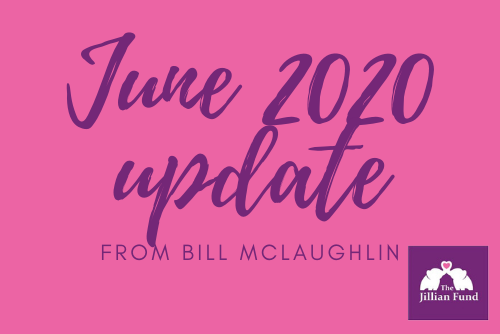 We are so grateful to all our friends for your tremendous support during the past several months. Our #GivingTuesdayNow campaign was very successful, raising nearly $20,000 to support our mission. We have also received many other generous donations and have had more donors sign up for our monthly giving program.
When I reflect on this outpouring of support, I realize the phrase "We are all in this together" has never been more true than it is today.
As you already know, as a result of the pandemic The Jillian Fund enhanced its support of families receiving care at our partner hospital, the Joseph M. Sanzari Children's Hospital. To support families facing job loss, furloughs, hospitalizations and, in some cases, death of family members, we donated $20,000 in Visa, Shoprite and Walmart giftcards that were distributed to 120 families in a six-week period. This allowed families to purchase food, medication, toiletries, cleaning supplies, masks, durable medical equipment, and other day-to-day necessities. Read more ...