A COVID-19 Update: Gala Will be Virtual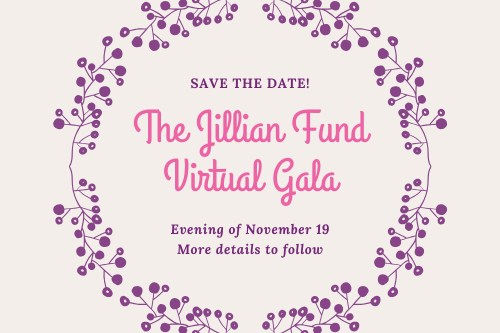 Like many nonprofits, The Jillian Fund continues to see an increase in the need for our services. More and more families with children receiving treatment at the Joseph M. Sanzari Children's Hospital are experiencing financial distress. To help meet this need, The Jillian Fund provided another $10,000 in gift cards to the social work team at the hospital this week for distribution.
This is the second round of gift cards we have provided to families. Many recipients have been furloughed and are responsible for paying their own health insurance. Some parents are not eligible for unemployment. Families have used the gift cards for food assistance, household expenses, toiletries, medication co-pays and over-the-counter medications and gas. We are so grateful to our many sponsors and donors who have supported us through the years, which has allowed us to provide this critical emergency funding.
As we ramp up our support, we are also experiencing a decline in anticipated revenue. The Ride for Jillian, the cross country motorcycle ride that the Patriot Pack undertakes each May to raise funds for and awareness of The Jillian Fund, has been canceled.
We have also made the very difficult decision to re-imagine our 2020 Gala, set for Thursday, November 19. As you may know, our gala contributes more than 75 percent of our annual revenue. Due to the uncertain times in which we live, we have decided to hold a virtual event rather than an in-person gathering. The reality is that our planning for this event would need to start now, and we just don't know what the landscape will look like in late fall, including whether there might be a restriction on large-group gatherings. Even without restrictions, we realize some might feel uncomfortable attending an in-person event. We are also aware that some of our sponsors are facing difficult economic conditions.
We will continue to share more information with you about our Virtual Gala as we finalize details, but for now we hope you "Save the Date" for the evening of November 19. We look forward to gathering in a new way, one that will allow us to share our story and provide opportunities for our friends to support our families.
The Jillian Fund will also be participating in #GivingTuesdayNow on Tuesday, May 5. Please watch for emails closer to the date; we hope you will continue to be generous in your support of our efforts. Please note that we always welcome donations on our webpage here.
Your support has never been more critical. We are so grateful; please accept our heartfelt thanks for your generosity.
Stay safe,
Bill McLaughlin
Chairman, The Jillian Fund