Thank you from The Jillian Fund! From Board Chair Bill McLaughlin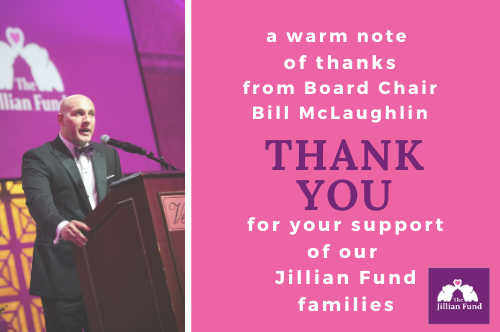 Wow! As I reflect on 2019 I am overwhelmed by the generosity of our corporate partners, sponsors, donors and friends who have supported The Jillian Fund in its mission of uniting families of critically ill children. Since our founding in 2014, we have grown exponentially; last year we raised more than $550,000, which is truly humbling. To date, our supporters have donated more than $2 million to The Jillian Fund, and we have helped nearly 200 families. By paying housing, utility, transportation and other expenses, The Jillian Fund has allowed parents to be by their children's side when they are in the hospital … because no child should face a life-threatening illness alone.
The Jillian Fund provides the gift of time together, which is truly priceless. As I watch my own two daughters grow up much too fast, I realize how important that gift of time really is. George has shard a story of a night in the hospital with Jillian, shortly before she lost her battle to blood cancer, when he was able to hold her as she was sleeping. He treasures that simple moment in time and will hold onto that memory forever. You allow families to make these memories and to support their children when it matters most. A popular phrase in the cancer community is "In this family, no one fights alone." Your generosity ensures that no child is alone in their fight; your gift provides a beacon of light in the darkest of days.
Because of you, The Jillian Fund is increasing the amount of support it offers to families by 25 percent in 2020. If we exceed our income targets, we will funnel even more to patient support. We also continue to fund a part-time social worker at Hackensack's Joseph M. Sanzari Children's Hospital, which provides invaluable support to our Jillian Fund families during a time of crisis.
Your generosity makes all of this possible. There are truly no words to express how grateful we are to our supporters. Please know that your investment in The Jillian Fund is appreciated and valued, and truly makes a difference every day for families that are facing the unimaginable. 
With thanks,
Bill McLaughlin
Chairman of The Jillian Fund