Make a New Year's Resolution You Can Keep!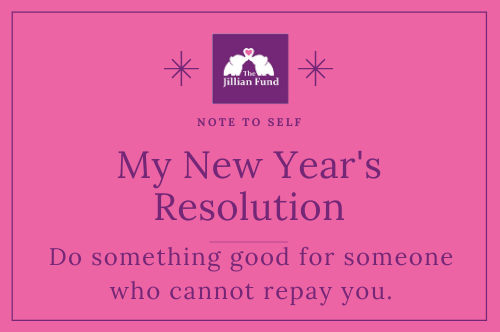 Did you usher in the new year (and decade) by making a New Year's Resolution? Perhaps you vowed to improve your health, bolster your financial situation, reach a certain professional goal, or spend more time with those you care about. Unfortunately, as we all know, most people who make resolutions don't keep them--US News & World Report states that 80 percent of people who make resolutions fail by February.
So how about making a New Year's Resolution you can keep? Become a Jillian Fund Champion today.
Jillian Fund Champions decide to support our mission with a monthly, quarterly or annual gift. It only takes a few minutes to set up and then your donation is processed automatically (you will receive a confirmation e-mail every time your credit card is charged). It's a great way to give back in a meaningful, easy way. And by giving small amounts over time, your generosity will have a big impact:
$25 a month helps pay a family's utility bill
$50 a month allows a family catch up with car payments
$100 a month provides one month's rent payment for a family
$250 a month meets most of a family's immediate needs, allowing them to stay focused on being there for their child.
Jillian Fund Champions are critical in our efforts to help unite families and their children who are battling a life-threatening illness. Your generosity allows parents to be by their child's bedside in the hospital together when it matters most--because no child should face a serious illness alone.
So make a NEW New Year's Resolution and become a Jillian Fund Champion today! Sign up today!