Spreading Holiday Cheer While Benefiting The Jillian Fund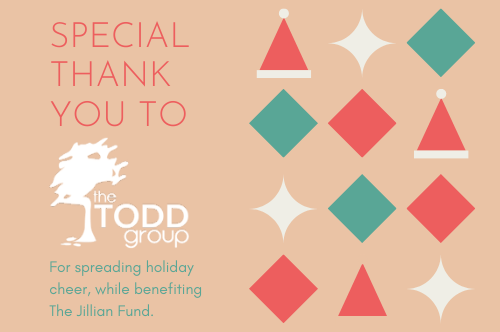 We want to thank Michael Todd of The Todd Group, a longtime supporter of The Jillian Fund, for opting to make a generous donation to the fund in honor of his clients for the holidays. 
He sent an email to his clients with the subject "What does Christmas mean to you?" to inform his clients of his gesture and encourage them to also consider a gift to The Jillian Fund. The text of his email is below; all of us at The Jillian Fund are so touched by his kind gesture. If you would like to join him in supporting our work with families of critically ill children, you can make an online donation here.
What does Christmas mean to you?
As I ponder this question, I can't help but return to my childhood.  Our house trimmed with holiday decorations, the taste of hot Ovaltine, the crackling of a fire and the radiant glow of a large Blue Spruce in our front yard covered with hundreds of large multi-color bulbs.  Large family gatherings filled with love and laughter, which in my opinion are the best presents of all, and the anticipation feeling of what Santa was going to bring me because I knew I was good.
As the years pass, the traditions still stand true.  Every time I sip that hot Ovaltine, I close my eyes and feel as if I'm in a time machine instantly returning to childhood.  Though the difference now is I have a more abundant power to create different experiences.  As a business owner, I get to see all our employees' children grow through the years at our annual company family picnic as well as all our client's children as we return each season. 
This time of year, as our projects slow down and everyone's property is buttoned up for the winter, I get to take a deep breath and reflect on all my blessings.  My family, my friends, my employees and of course all of you, our clients.  Your trust in us to create, build and maintain your landscape provides opportunities for our 50+ employees as well as those in need through our non-profit partners. 
This year we are making a donation to The Jillian Fund in your honor to help a young child in our area.  Our donation will help this family, who is currently in a complete state of crisis—mom broke down when speaking with a social worker and she does not want to accept help but realizes she needs help. Their son is very, very ill.
The Jillian Fund provides financial assistance to families of children with life-threatening illnesses. The organization strives to make life a little more manageable during an unimaginable time by easing the financial burden that could prevent families from being together when it matters most. Specifically, our gift will help the Williams family from Morris County. Their son, Jake, is 11 years old. He was diagnosed with stage IV neuroblastoma in 2013. He has received multiple rounds of treatment, including surgery, chemotherapy, radiation and stem cell transplants at several hospitals, including Memorial Sloan Kettering and the Children's Hospital of Philadelphia. Despite achieving remission, his disease has relapsed, and he is currently receiving treatment at the Children's Cancer Institute at Hackensack Meridian Health. His condition is extremely guarded.
Jake's family is currently in crisis. In addition to facing a relapse of his disease, his mom, the sole financial provider for the family, lost her job in a company-wide layoff a few months ago.  Jake's dad left the workforce when his son was diagnosed so he could manage the care and has now returned to work due to the family's declining financial situation. The family is behind on mortgage payments because of treatment costs and mom's unemployment. My gift in your honor will help the family get caught up so they can focus on Jake during this critical time in his life.
You can learn more about The Jillian Fund and its work at www.thejillianfund.org . If you have the ability to help families going through challenging times you can donate here.  http://bit.ly/donatetoJillian
I know it can be difficult to donate this time of year, though if you can, the smallest gesture can make the largest impact.
With love and gratitude,
Michael Todd