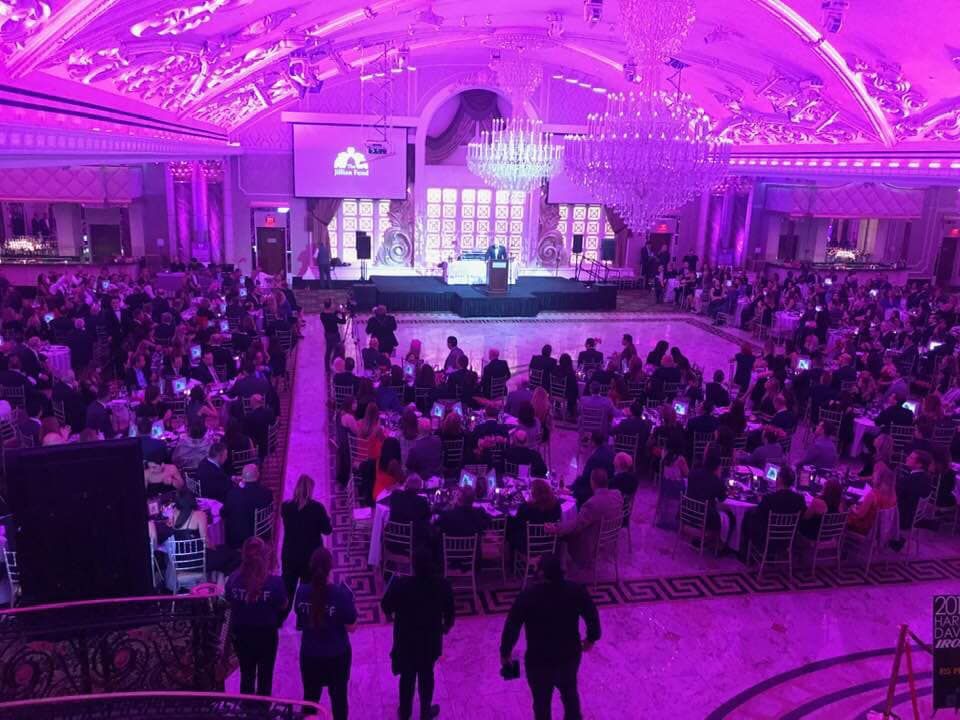 The Jillian Fund's Sixth Annual Gala was held October 30 at The Venetian in Garfield, New Jersey. More than 40 corporate sponsors—including lead sponsors Atlantic, Tomorrow's Office and Konica Minolta—and 720 attendees fueled the event's success, allowing the organization to raise $470,000. Proceeds will provide financial support—such as rent or mortgage payments, transportation expenses and childcare costs--to families of children with life-threatening illnesses. The goal of this support is to remove the financial barriers that would prevent a parent from being by their child's side when it matters most.
The Jillian Fund is named for Jillian Lauren Gorman, who was a typical, independent, fun loving and adventurous teenager when she was diagnosed in 2009 at age 16 with an aggressive form of blood cancer. Jillian and her family endured three and a half years of grueling treatments: continuous rounds of chemotherapy, three bone marrow transplants, one kidney transplant, two full years of dialysis and lengthy hospital stays. Despite three hopeful periods of remission, Jillian eventually lost her valiant battle with the disease on March 3, 2013.
 As George Gorman, Jillian's dad and Executive Dealer Business Manager at Ricoh Americas Corporation, shared at the gala: "No parent wants to be anywhere but by their child's bedside, and no child wants anything more than their family to be with them during the most challenging time in their young lives. I know that--because the families we help tell me often how their presence at the hospital played such a vital part in their child's healing process. I know that because I've had the honor of spending those long and challenging nights with my daughter Jillian."
Chairman of The Jillian Fund Bill McLaughlin, Chief Technology Officer and EVP at Atlantic, Tomorrow's Office, echoed Gorman's sentiment, "To me, children are life's greatest gift, a gift that must be nurtured with the greatest care. No parent should ever have to be separated from their child, especially at a time when their child needs them most."
The event featured the story of one Jillian Fund family, the Riveras, whose daughter, Emmaelly is being treated for brain cancer (watch the video about the family).  Emmaelly's mom had to stop working when her daughter was diagnosed, putting tremendous financial strain on their family of five. The Jillian Fund's support has helped the family manage during her lengthy illness. Emmaelly's prognosis is good, and she plans to return to school for the first time in more than a year this month.
The Jillian Fund also provides funding for a part-time social worker at Hackensack Meridian Health Network's Joseph M. Sanzari Children's Hospital. Amy Glazer, who is the executive director of development at the hospital and also the mom to a child born 15 weeks early, described the critical support the social work team can play when a child is ill.
"A social worker would often sit with the me, talking through the next procedure or explaining the next hurdle he needed to overcome," said Glazer. "And, when it was time to take my son home, a child life specialist met our other son to explain on an-age appropriate level why his baby brother needed monitors and tubes to help him breathe and be fed."
The presentation also featured a rendition of "You're Too Good to be True" with customized lyrics paying tribute to Jillian. The song was led by The Jillian Fund's Patriot Pack, a group of motorcycle riders who travel from Scottsdale, Ariz., to Washington, D.C. each May as part of the Memorial Day Rolling Thunder Ride for Freedom. The Pack stops at various industry dealers along the way, and last year raised more than $100,000 for The Jillian Fund.
The gala also included a custom-built haunted house by famous designer Leonard Pickel of Hauntrepreneurs, a high-end silent auction, dancing, and casino tables.
"We are so appreciative to our industry for supporting this event," said McLaughlin. "The Jillian Fund has grown beyond what we ever imagined. In six years, we have raised more than $2 million and helped 187 families. We are grateful for the support and look forward to helping many more families in the years to come."
Gorman also is thankful for the generous support of The Jillian Fund. "Our inspiration originated from the fight of one very strong and brave little girl and you have made it possible for The Jillian fund to touch thousands of hearts, one family at a time," he said. "And while we cannot change the world, you have made a world of difference in the lives of the families we help."